Famous photographer speaks about Armenian vandalism on French TV Channel
02.23.2021
Well-known photographer Reza Deghati was a guest of the French TV channel ARTE. In the program, he shared information about the atrocities committed by Armenians in the occupied territories of Karabakh, and showed pictures of the destruction that he took in those territories.
Responding to the provocative position by program's presenter, Reza Deghati noted the bias and neutrality of the French media, Azvision.az reports.
He said that 80 French journalists and photographers went to Armenia to comment on the conflict from the Armenian point of view, but no French journalist was sent to Azerbaijan. The well-known photographer noted that France's appeals to leading media outlets to cover the conflict went unanswered: "One of the parties to the conflict has been completely" forgotten" by the media. I am a witness of it. Before going to any conflict zone, I contact the major French media outlets and tell them that I am going to the conflict zone. They cooperate with me. However, when I called the major media outlets about the Karabakh conflict and said that I was going to the conflict zone, no media outlet wanted to cooperate with me. Thus, they did not give me this opportunity. However, there were 80 French journalists and photographers on the Armenian side. All French media outlets sent journalists to Armenia. On the Azerbaijani side, only me and local photographers were with me.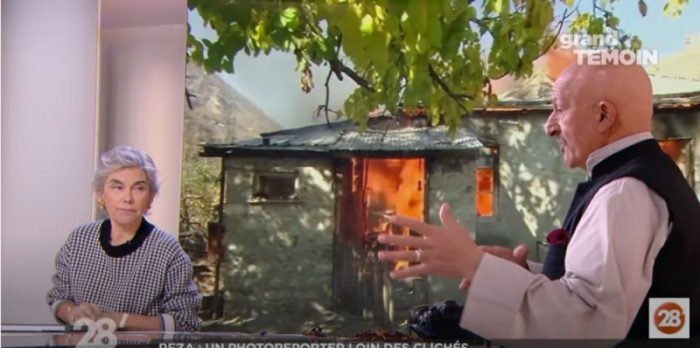 Deghati said he has been covering this conflict since 1992 – the First Karabakh War. The renowned photojournalist said he has been focusing on two main issues in the conflict.
"The first point is the suffering of civilians, which I'm always focused. I have photographed all the wars over the past 40 years. Women and children are most affected by wars. They are the real victims of the war. It was the Azerbaijani civilian population that was also bombed during the Karabakh war and was the victim of munitions banned by the Geneva Conventions," he added. Deghati said the second point he is focused on is the liberated territories. "I have been working in this field in Azerbaijan for two and a half months. The liberated villages and cities are completely destroyed. I have never seen such a scene during other wars."
The photojournalist then showed the ruins of Aghdam city on the screen. "Aghdam is one of the destroyed cities. This city is called "Hiroshima of the Caucasus" and "Ghost Town". Imagine that this city was purposefully razed to the ground. This city was not destroyed during the war. The destruction was systematic; villages, houses, everything were systematically and purposefully destroyed. I have never seen such a scene anywhere," he added.